Simply Gentle Ear Cleanser For Alcohol-Free, Sting-Free Care
Clean ears, no crying (either of you)
For the sake of their overall wellness, it's a good idea to routinely check your dog's ears and gently cleanse them. But it can be uncomfortable for your dog if the cleanser stings from alcohol. They cry out or tense up and then you do, too. We created our Simply Gentle formula without alcohol and added both Aloe Vera and Vitamin E for a soothing experience for both you and your dog. 
Directions
Inspect your dog's ears. If you see excessive redness, bumps or discharge (especially if it smells foul) speak to your vet. These can be signs of infection or allergies. 
Shake Gentle bottle lightly and then apply generously to a cotton ball or wipe (not a "q-tip" - no bias on brand, just the swab on a stick type) You can see on the diagram below how delicate the ear is. Forcing a swab into tight areas runs the risk of tissue damage or compaction of debris. (Neither will make you very popular with your pup.)
Gently, carefully wipe debris from folds and crevices of the exterior (auricular) cartilage - no need to dig/push into the areas you can't see.
Or if your vet recommends it, irrigate the ear by squeezing Gentle into the canal, massage the base of the ear for 30-45 seconds & then use cotton balls/wipes to remove loosened wax & debris. Don't force cotton into the ear canal. (Your dog is very likely to shake his/her head when you least expect it so be ready to duck if you choose this method.)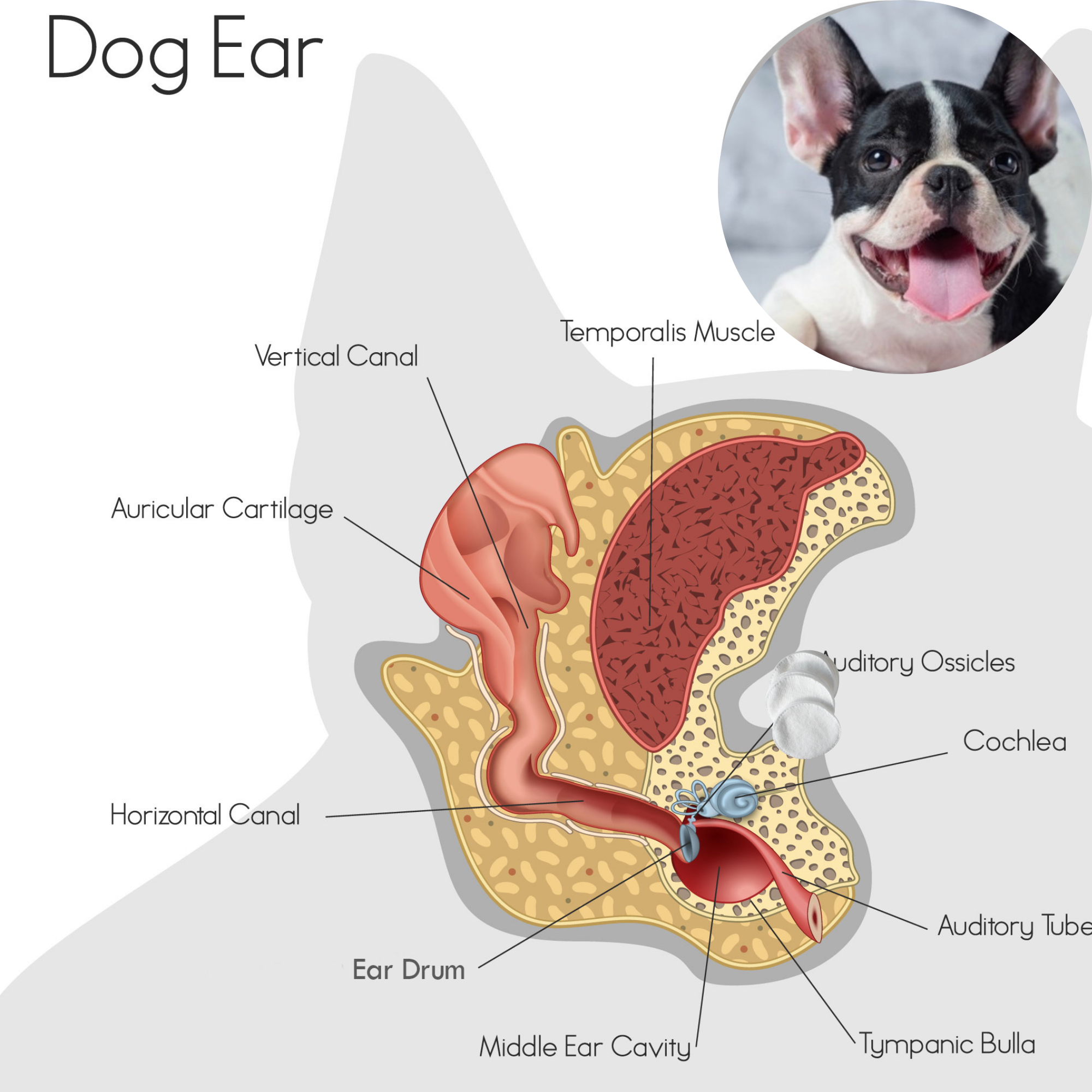 A Simple Diagram of A Dog's Ear  
Ingredients grouped by benefit for your dog:
Cleanse & condition: aloe vera, vitamin E, witch hazel (alcohol-free) 
Aromatics: rose, black pepper, peppermint*                                                     
Other ingredients: purified water, plant-based polysorbate 20 (emulsifier), citric acid (preservative)
No alcohol, parabens, phthalates, sulfates, phosphates, DEA, synthetic color or synthetic fragrance.
Safe for dogs 8 +weeks. Not for cats. Flea-treatment compatible. pH balanced. Cruelty-Free. Vegan. 


Although there are no formal standards for a dog's skin and coat care products, we review our ingredients against veterinary recommendations and the EWG's SkinDeep database and WholeFood's personal care standards to minimize risks to your skin and on the Earth's groundwater. 
** Environmental Working Group - 
an American activist group that specializes in research and advocacy in the areas of agricultural subsidies, toxic chemicals, drinking water pollutants, and corporate accountability.
   * 
pests like fleas, ticks ad mosquitos naturally avoid the scent of these plants so they act as a natural deterrent -- our products do not contain neurotoxins so do not kill or repel pests
These statements have not been evaluated by the Food and Drug Administration. This product is not intended to diagnose, treat, cure or prevent any disease. 
The one for me..
I was looking for a more "natural" ear cleaning product than most of what is on the market. And I particularly did not want one with a heavy perfume smell. I have tried many of these over the years & found the scents very strong and offensive. And since they eminate from inside ear canal, unlike a perfume applied to the skin so that it's exposed to the air, the perfume smell lasts a long time.
I just don't trust the safety of synthetic chemicals in the added perfume; not for me & surely not for my pets.
The Simply Gentle scents don't come from synthetic sources & are not overwhelming.
This product works as well, and often better, than the ear cleaners purchased over the years from veterinarians and online.
I highly recommend Simply Gentle ear cleanser.